Anaesthesia
All operations require some form of anaesthetic and the majority of knee operations are carried out under a general anaesthetic.
The type and duration of anaesthetic used depends on the nature of the surgery being performed but will always be matched to your individual needs. Almost invariably I will add local anaesthetic around the operation site at the end of the procedure, before you wake up, to help to reduce pain in the hours following your operation.
I work with a number of specialist musculoskeletal anaesthetists who are familiar with the surgery I do and with whom I have worked to optimise the anaesthetic process. Their involvement continues beyond the operation itself to ensure a comfortable recovery.
Understandably some people feel more anxious about any potential anaesthetic than the surgery itself, but I am confident in the anaesthetists who work with me and the techniques we have developed together. Your anaesthetist will be happy to discuss any concerns you may have with you before the operation.
Dr Ed Morris is the anaesthetist who works with me most frequently and arranges anaesthetic cover for all operating lists and his profile is below.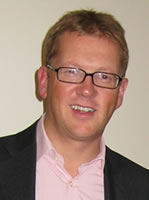 Dr Ed Morris BSc (Hons), MBBS, FRCA
Consultant Anaesthetist
I qualified as a doctor in London in 1992 and trained in anaesthesia in Bristol, the South West, and the USA, becoming an NHS consultant in 2002. Since then I have worked closely with Jonathan Eldridge to develop anaesthetic techniques to make your hospital stay as pleasant (and short!) as possible. I look forward to meeting you before your operation to talk through the options available and answer any questions you might have. Patients often have different questions or even anxieties and I enjoy spending time explaining what will happen to you while you are under my care.
As well as my interest in anaesthesia for orthopaedic surgery (I work with Jonathan in his NHS practice too) I specialise in anaesthesia for head and neck surgery, fertility treatments, and urology at Southmead Hospital in Bristol. I am an honorary senior clinical lecturer at the University of Bristol and am involved in choosing tomorrow's doctors as an admissions tutor there. Away from work I enjoy spending time with my young family and running (I completed the London Marathon in 2007).
Occasionally Jonathan's patients are anaesthetised by colleagues of mine with similar training and experience – we look forward to meeting you and being part of the team who look after you.
FAQs about Anaesthesia
The guide for patients provided by the Royal College of Anaesthetists at http://www.rcoa.ac.uk/patientinfo will answer many of your general questions about anaesthesia. The FAQs below reflect the sorts of specific questions that our patients often have.
Bristol
Contact us on
0117 980 4037 or
0117 980 4046